It's great to see people highlighting bad sportsmanship. Joe Canning will no doubt incur the wrath of Kilkenny supporters from his comments but he's absolutely correct.
Any player who goes chasing after linesmen and referees looking for a decision has a serious attitude problem, as far as I'm concerned.
That it was someone of the talents and ability of Henry Shefflin is very disappointing, but one element of the Kilkenny game has always been about playing the officials. You need only look to how the players are led in this unsporting aspect by their coach.
At the end of the game  last Sunday, Brian Cody was nothing short of disgraceful in his behaviour towards the refereeing officials when he launched into a tirade of abuse upon them. After the match, he was all sweetness and light when he maintained that it didn't matter what he might have said or not, and that it was only the referee's decision that counted.

Nonsense. He says one thing but he acts in another way and it's by his actions alone that he will be judged. Bully-boy tactics shouldn't be tolerated in any sport and I hope that this message will have got through to the powers that be in GAA in time for the replay. We'll see who wins. As long as it's a sporting game played in a sporting spirit, I don't mind.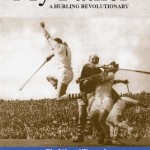 "My Father: A Hurling Revolutionary, the life and times of Ned Power" is out .on paperback.  Click here for further information, pre-order and excerpt.