Hurling books its second date with destiny as Kilkenny and Galway finish level.
Despite all the predictions of a proper Kilkenny backlash against a team that dared cross the Shannon in July, smack their bottoms and take their Leinster crown, Galway confirmed their status as worthy opponents of this legendary team.
From the very start, there were signs that Galway were not here as a supporting act to this particular drama. The Galway players were clearly intent on making their physical presence felt as the opening couple of minutes saw a number of Kilkenny players bundled over as if they were 1st-years in the school yard playing against sixth-years who had been held back for indiscipline. Indeed, they were lucky that referee Barry Kelly had not yet had a chance to get up to speed with this fiercely-contested duel or there could have been a couple of yellow cards dished out. The next omen that this was going to be no ordinary day for Kilkenny was when JJ Delaney fluffed a line ball that led straight to one of Galway's first attacks of the day.
Galway stunned as they steadfastly refused to allow Kilkenny forwards get even the slightest twinge of comfort as they denied them possession time and time again while picking off their scores from play with a composure that was astonishing and which belied the pre-match belief that they would be the ones to have leaden feet from their lack of experience of All-Ireland finals.
Indeed, it was the Cats who seemed to be without a plan of any cohesive nature as they completely failed to get any kind of grip on the game. Twenty minutes into the game and they had just one point from play while Galway were motoring nicely, having scored a goal and five.
At the interval, there wasn't a great margin (five points), but it already looked as if Kilkenny were gone. It was, like the Leinster final, a place where these players were not used to being while playing for their county – outplayed, out-foxed, out-manoeuvred, out-muscled… They looked out from every angle: plan A was not allowed by their opponents and they struggled to find a plan B.
In the second half, Kilkenny did seem to find one. A few changes in position occurred, but the by far the most significant was that of Henry Shefflin adopting a more central role of commander-in-chief and Minister for Mayhem. He burst through, knocking forward shots that were destined to become scores the instant they left the bas of his hurley. He passed well and became a focal point for the whole KK team to galvanise around.
At the other end, Galway were finding it harder to pick off their scores. Kilkenny were doing a better defensive job and long-range efforts were wayward. The Nore-siders conceded three yellow cards in the half but it was acceptable collateral damage as far as they were concerned. As the Galway wide tally mounted, Kilkenny levelled and then moved ahead.
A goal against the run of play put Galway two points up again. Kilkenny levelled again and, with less than three minutes to go, had a penalty. A goal would almost certainly have ended the match. Shefflin looked to his manager for guidance. Cody shook his head and left the decision in hands of he would be King of Nine All-Ireland Medals. Shefflin sent the ball almost vertical straight between the sticks. A guaranteed lead in the closing minutes was better than a fluffed goal.
Joe Canning – who hadn't fluffed his lines all day – missed a very scoreable point after that and looked like Galway had somehow managed to shoot themselves in the foot. But there was to be one final twist. A free to Galway. Cody lost the head and launched into a bullying attack on officials. Cunningham made a "mouthy" gesture with his hand opening and closing and Cody then began to vent his frustration on him. Canning took an extra breath to relax himself and nailed the free.
The first All-Ireland Senior Hurling replay since a match in 1959 when Kilkenny were again in action. On that occasion, it was Waterford who were their opponents. The replay was held on a sweltering hot October day and it was Kilkenny who came out second best. Will history repeat itself?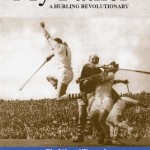 "My Father: A Hurling Revolutionary, the life and times of Ned Power" is out on paperback.  Click here for further information, pre-order and excerpt.