Question: How do you make Kilkenny play at their best and ensure that they win the All-Ireland yet again?
Answer: You beat them early on in the season.
Kilkenny produced a second-half display that was simply stunning yesterday. This was the Kilkenny of old: back to their belligerent, dirty, skilful, brilliant best. The last few years of  being beaten in a League Final by Dublin, being beaten in an All-Ireland by Tipperary and, (the straw that really broke the camel's back), being beaten by Galway for THEIR Leinster crown! (They weren't even a Leinster team!) have finally caused the genteel mask to slip. They were only fooling us all along.
Can you imagine the dressing room after the Galway defeat? The spitting and the shouting and table-banging ? I wasn't there, of course – I'm only using pure conjecture here, but you can be certain that Mr Cody was unhappy and would have mentioned this fact on several occasions as he knelt down in front of each of the brave warriors that had so failed him on this fateful day and gently spoke to each in turn.
You could see the anger mounting as Kilkenny were forced to go at the All-Ireland the long way around; having to play the likes of Limerick and totally messing up their training schedule.
Since the Waterford/Kilkenny massacre of a few years ago at the All-Ireland final, it was clear to anyone that part of Kilkenny's success lay in interpreting and carrying out their own set of highly physical rules in hurling. It was time to put a halt to their gallop for the sake of clean hurling and, perhaps, for the sake of hurling generally, as nobody else could compare with them.
Referees suddenly got a bit tougher. They stopped letting Kilkenny backs away with the illegal shoves and ankles taps and they paid particular attention to the Kilkenny tactic of surrounding your opponent and beating him up until he releases the ball.
Things seemed to change. Dublin beat them to a major crown. Cody whined and whinged and cried "conspiracy!" He was partly right, of course, but it also looked as though Kilkenny had been found out and that their crown was beginning to slip.
The second half unleashed the original Kilkenny once again. And do you know what? We kind-of missed it.
Galway must atone for the grave sin they committed. They will suffer a heavy defeat in Croke Park in September.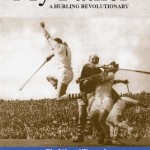 "My Father: A Hurling Revolutionary, the life and times of Ned Power" is out on paperback.  Click here for further information, pre-order and excerpt.