Waterford suffered their second Munster Final defeat in a row in Páirc Uí Chaoimh yesterday. Again, it was Tipperary who were their torturers, running in a seven-point victory against the Déise hurlers.
Although there was no denying the fact that Tipp deserved their win, the scoreline did flatter them somewhat in the end. For this match was one of high intensity and high skill levels. Ultimately it was Tipperary that showed their skill levels to be that little bit sharper, particularly in the latter stages of the match, when some of Waterford's best performers went a little blunt. They produced eight wides during the second half. Tipperary, meanwhile, kept their level up throughout and, crucially, they got the goal from which there was to be no way back.
But Waterford will have taken some heart from this match. For most of the game, they were toe-to-toe with a team that used to be beating quite regularly up to a few years ago; a team that has won an All-Ireland only two seasons ago, let's not forget.
Next up for Waterford is Cork. If they had a look at the game between Cork and Tipperary, they will have seen that there isn't a whole lot to be terrified of. Certainly, it's heartening to see Cork coming back to something like their best, but if Michael Ryan's charges produce a similar performance on July 29th, then they should manage to overcome Cork.
Another note of positivity was the continued rehabilitation of Eoin Kelly to inter-county hurling. He came on towards the end and contributed well to the overall play, as well as assuming free-taking duties from a visibly tiring Maurice Shanahan.
Finally, there may have been some doubts as to the wisdom of including Tony Browne in the starting line-up, but he proved that there is some amount of life in the old dog yet. He was one of Waterford's best players in a game where no Déise player produced anything less than a highly competent performance. If he's fit for the next game, then there's no reason why he shouldn't play against Cork. And if he does, it will increase our chances of victory.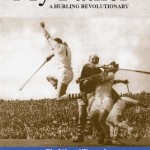 "My Father: A Hurling Revolutionary, the life and times of Ned Power" was released in November 2009 and was long-listed for the William Hill Irish Sports Book of the Year in 2010.  Click here for further information, pre-order and excerpt.